By Trina Moyles
As the old adage goes, "There are no straight lines in Nature". Nor is there a straight path, a single trajectory of point A to point B that led Andrew Rosychuk to where he is today, growing 27,000 haskap berry bushes on Rosy Farms, an organic orchard in Sturgeon County, Alberta.
From welder to project coordinator at Suncor to triathlete to aspiring firefighter to haskap farmer, Andrew's journey into farming may seem unconventional. Even his choice of berry – the humble, lesser known haskap – may be somewhat surprising. Haskaps (Lonicera caerulea) are a type of edible honeysuckle, native to the northern hemisphere, and considered a relatively new crop in Canada. So why farming? And why haskaps?
"It took me a long time to figure out what my 'why' is," laughs Andrew. "I love creating things. I like making things happen. With horticulture, I always saw an opportunity for creating something."
Andrew developed an early love for seeds and plants in childhood. While he grew up in Edmonton, he spent many weekends "playing in the dirt" on his aunt and uncle's farm outside of Sherwood Park. In high school, he became known by his classmates as the "plant guy", experimenting with growing seeds in the greenhouse without permission. "Teachers hated me," he laughs. But horticulture fascinated Andrew and drew him in. "[A seed] is like a perfect little computer," he says. "You can change growth habits, cultivate for early flowering, produce fruit earlier or later. I was always intrigued by working with a plant to maximize its potential."
In 2005, while taking the Production Horticulture Diploma program at Olds College, Andrew's aunt and uncle invited him to experiment on the family farm – the same land his own father grew up on. He planted sour cherries, currants, and haskaps.
"The deer ate the cherries, the currents were eaten by the bugs, and the haskaps, well, I just kind of fell in love with them," says Andrew.
"But I realized you need money to make money," he admits. The aspiring farmer turned to the trades and signed up for a night-course in welding. "I chose to pursue welding because you can make your own farm equipment." Moving through the ranks, he landed a welding job as Project Executor with Suncor in Fort McMurray, where he worked for three years, further developing his management and project planning skills.
In 2014, Andrew was finally ready to return to his childhood dream. He purchased 80-acres of "weathered land" northwest of Morinville. With the help of his parents, he envisioned to plant fruit trees, restore the eroded soils, and build a healthy, organic ecosystem through regenerative agriculture practices.
"My parents have always been the heart of the farm," insists Andrew.
In 2016, Andrew and his parents planted the first 10,000 haskap bushes and an eco-buffer around his property with the goal to build habitat for native pollinators. And, as they say, the rest is history.

Planting the Haskap – A Super Fruit of the North
 It's question Andrew gets asked often: "Why haskaps?"
"It goes back to my desire to create," says Andrew. "Many small farmers grow vegetables and it's really hard to differentiate yourself. You're also competing against the States and Mexico, and really the world market." He considered going the traditional agriculture route – cultivating grains and cereals – but didn't have the capital for it. Investing in a greenhouse wasn't a viable option. "For me, it always made sense to deal with fruit," says Andrew.
He decided to grow haskaps for several reasons. For one, haskaps are well suited to the Alberta growing climate. The plants are as "tough as nails" and can survive the harshest of winter temperatures of up to -50 degrees Celsius.
Secondly, haskaps are considered an up-and-coming super food with 3 times the antioxidants and 5 times the anti-inflammatory properties as the high bush blueberry. (There's good reason that in Japan, "haskap", or "hasukappu" translates to "little gift on the end of a branch").
While haskaps are native to Canada and other countries in the northern hemisphere, domestic breeding of the fruit began in Russia in the 1950s. In Canada, agricultural researchers at the University of Saskatchewan have been experimenting with cultivars and varieties since 1998. The hardy haskap is early flowering and fruiting, producing berries as early as strawberries, with the first-harvest taking place in June, and other varieties in mid-August.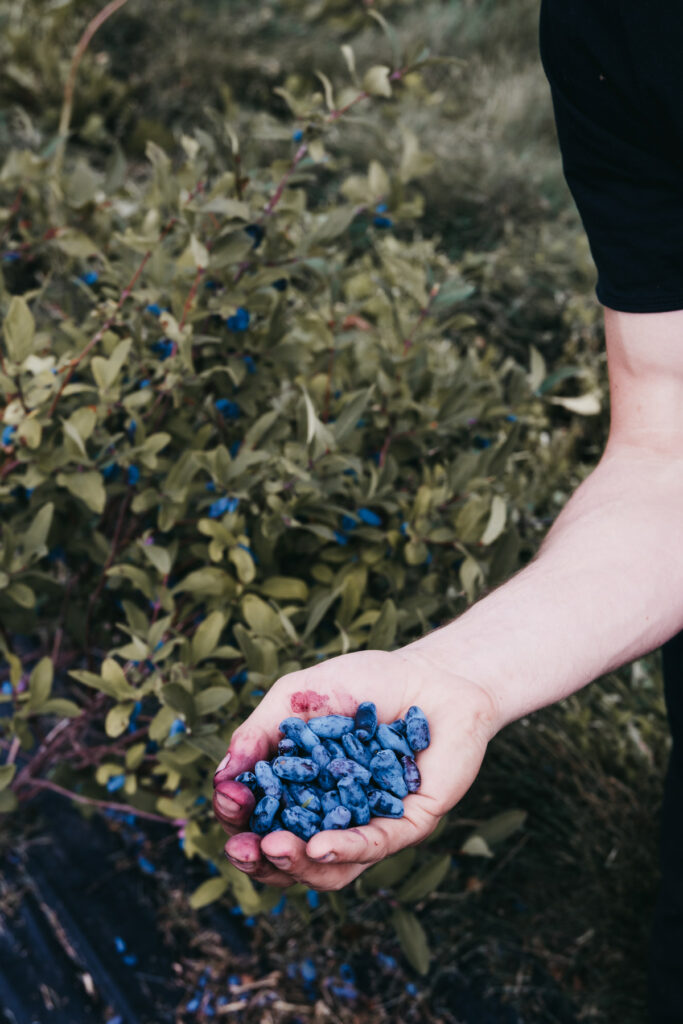 Establishing a fruit orchard takes time, of course, but Andrew built this longevity into his financial model, leaning on his work in the trades to subsidize costs. Now in his sixth year of production, he has over 27,000 haskaps at Rosy Farms, with the majority in their fourth, or fifth year of maturity.
Perennial horticulture has always appealed to Andrew over growing annuals for reasons of labour efficiency. But he also admits that there's many challenges to the relatively new and young haskap industry in Alberta, including processing, distribution, and access to markets. "As a farmer who only has 27 acres, I've known from day one that I can't get into retail – I just don't have the volume," explains Andrew.
In 2018, Andrew founded the Alberta Haskap Association, bringing together a small, but growing number of haskap producers in the province. The goal is to help build infrastructure for haskap producers to share resources, access markets, and enhance the long-term viability of the haskap industry.
"Together growers can work towards stabilizing the market," says Andrew. "Also, nobody knows what the heck a haskap is – and it's amazing! It should be something people eat as a daily fruit. We need to educate the public on the benefits of haskaps – and build a common education."
Working with Mother Nature: Ecosystem Succession & Biological Stimulants
Andrew is taking a regenerative agriculture approach to building soil fertility at Rosy Farms.
"For me, working with the land instead of against it is extremely important," he Andrew. "Not only is it something that feels good, but it's a financial 'no brainer'. Why would I try to fight Mother Nature, who is going to win every time?"
Andrew works with natural ecosystem succession: planting berry bushes on broken, exposed soils and making room for pioneer species – like dandelions, for example – and grasses and shrubs. He points out how "weeds" actually have tremendous value in helping to aerate soils, provide shade for other plants, and stimulate microbiology in the soil. Andrew purposely sowed bunch grasses – a grass that would be in the same phase as the haskaps – as opposed to a creeping grass, like a brown grass, or quack grass.
"I'm not sure exactly how to define regenerative farming," he says reflectively. "But it's more about wanting to learn how plants symbiotically work with each other. Take, mycorrhizae and rhizosphere. The biology is so fascinating! I'm trying to work with nature and test these relationships on my farm."
Andrew is experimenting with making and applying biological stimulants to his orchard, including compost tea. Compost tea is a liquid produced by multiplying beneficial microorganisms (microbes) – bacteria, fungi, protozoa, nematodes, and micro arthropods – from compost using a brewing process. Root growth is simulated by compost tea applications, increasing moisture retention and nutrient uptake.
Recently, he was excited to meet a neighboring farmer who is producing enough composting tea to apply to 1,200 acres of agricultural land. "Regenerative farming has allowed me to build my social network of 'crazies' that I absolutely love," he says.
Building Habitat for Native Pollinators – Integrated Pest Management
There are no honeybee hives on Rosy Farms. Many people tell Andrew: "You should put beehives on your property." But Andrew has actually build an eco-buffer around his orchard to support native bees and build habitat for native pollinator species. There are about 250 known species of bumble bees with 29 different species residing in Alberta. He points to science that shows honeybees are outcompeting native bees for food sources, and in turn, threatening their populations and diversity. Research has shown that bumble bees located near honeybee hives gain less weight and have smaller queens.
"It's kind of like a gunshot mentality. It's like throwing honeybees at the problem and they'll do everything for you," explains Andrew. "But with native bees, it's a lot more complicated. Honeybees travel up to a mile. But burrowing bees only go within a few hundred metres, so you need to create an ecosystem. You need to create a diversity of food source for very many different species."
Native pollinators are better suited to Alberta's harsh environment than European honeybees, he points out. Many species are able to withstand cold temperatures during the winter and some can actually generate their own heat. "There's not many insects in the world that can do that – it's pretty incredible."
With haskaps producing early flowers, it's still too cold for honeybees. But bumblebees and other native bee species have no choice: to survive Alberta's environment, they have to feed.
"They go out and work for me," says Andrew. "The burrowing bees live in the ground, right below my haskaps. As long as I provide them with a diversity of food, they'll pollinate for me."
He's strategic in planting a diversity of species as cover crops. In between the haskaps, Andrew plants 3 kinds of bunch grasses, 2 kinds of clovers, hairy vetch, black medic, birds-foot trefoil, and plantain. He also allows for native species like dandelions, asters and goldenrod to take root in his shelter belts and, in turn, provide food for pollinators.
Andrew practices Integrated Pest Management on Rosy Farms, observing the life cycles of different species and how they interact with one another on his farm. He accepts that there's going to be weeds, insects, and disease. By farming with Mother Nature and building an organic system, he hopes that pests, disease, and insects will be kept, more or less, in balance. Andrew points out how mice that burrow in the shelterbelt, in turn, create denning habitat for native pollinator species.
"If I want to work with Mother Nature, I need to observe her," he says. "I need to learn from her."
Inspiring a new generation of diverse farmers & marketplace
For Andrew, large-scale agriculture just never made sense. How do you know your land – intimately – when you're farming thousands and thousands of acres? With small-scale horticulture, says Andrew, there's an opportunity to gain a deeper awareness of how your land responds to environmental change.
"There's never been a better time to get into regenerative farming," says Andrew, pointing out that agronomists used to freely push synthetic fertilizers and pesticides. But he sees a real shift in thinking about soil health and biology, with more people adopting organic production and cover cropping.
Andrew praises the efforts of organizations, particularly the Young Agrarians, for supporting a new generation of aspiring farmers, many whom do not come from farming backgrounds. He believes that supporting people – young and old – to get into farming will help diversify the agricultural model.

"I think it's a beautiful thing because you get different perspectives and intentions," says Andrew. "And hopefully this diversification flows organically into the mainstream."
He credits early mentorship from now-Yukon-based farmer, Leona Watson, a former classmate at Olds College, along with a former scholar in the Nuffield Canada Scholarship program. Leona's enthusiasm and dedication to the sector helped him take the leap into farming.
"As a new farmer, I can't do everything alone," says Andrew. "But together we can innovate, diversify, and really push agriculture to the next level."
—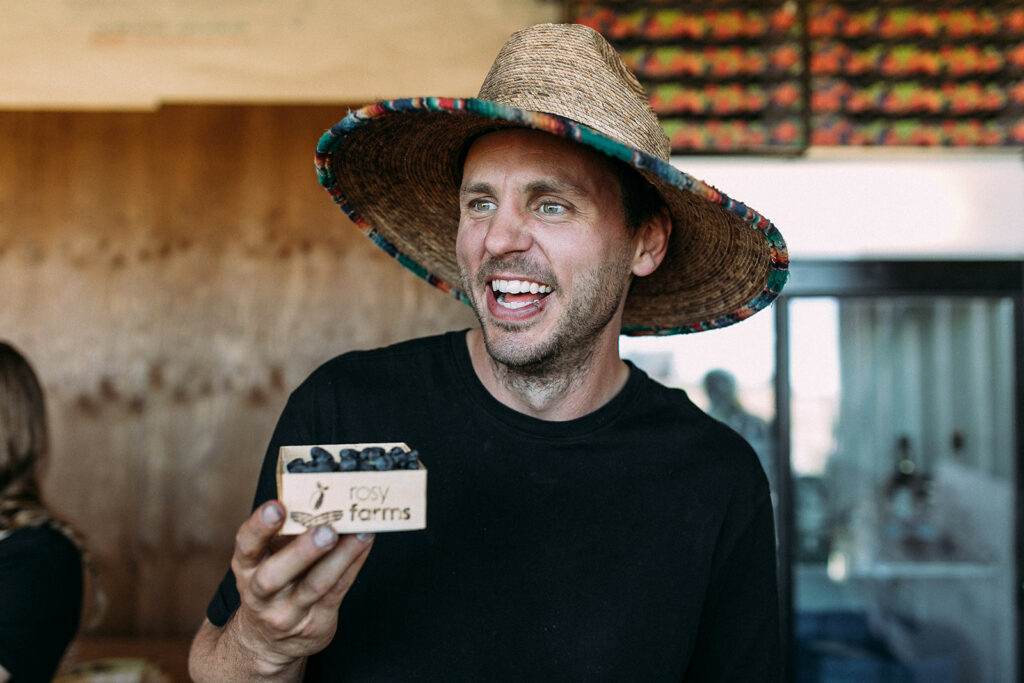 rosy farms - sturgeon county
Andrew Rosychuk is the farmer behind Rosy Farms, a 27-acre orchard operation in Sturgeon County, north of Morinville, Alberta. Andrew grows haskap berries – a "super berry" in the northern hemisphere – and uses a number of regenerative agriculture practices to build soil health and habitat for native pollinators. Recently, he founded the Alberta Haskap Association with the goal of building a community of haskap growers and promoting growth in the haskap industry.
Learn more about Rosy Farms – https://www.rosyfarms.com/