Norma Wolfchild of Kainai First Nation, Treaty 7, Southern Alberta.

By Trina Moyles
When Norma Wolfchild was growing up on Kainai First Nation, or the Blood Tribe Reservation, in southern Alberta, she always remembered being fascinated with her aunt's husband's garden. "I enjoyed watching him work in the garden and harvest what he grew," recalls Wolfchild. "It always intrigued me."
Wolfchild, a member of the Blood Tribe, has spent nearly 20 years helping her community develop small business ventures, working with the Blood Tribe Economic Development as a small business development officer. Today she lives on Blood Tribe Reservation with her family and is working with Business Link as an Indigenous Business Strategist.
Although she pursued a career in economic development, the initial curiosity that Wolfchild felt for gardening and growing food never really left her. It was something she tried her hand at many times over the years, although it would take some years before gardening took root.
"My first attempt [at gardening] was ruined by high winds. It was not a good spot," Wolfchild chuckles.
In her second attempt at gardening in 2013, vegetable seedlings were just coming up as she and her family learned that there was going to be an access road built to their home, and they had to go through the middle of the garden.
But when Wolfchild's husband was diagnosed with diabetes in 2016, she was determined to establish a garden once again. Wolfchild dug up a small garden plot in her backyard and planted potatoes, radish, peas, onions, cabbage, turnips, and romaine lettuce. She began to spend long hours in the garden, noticing the beneficial insects, like ladybugs and bumblebees, and she knew immediately that she didn't want to apply pesticides — for the health of her husband and the land.
"My husband's diagnosis with diabetes was the main reason why I wanted to garden again," explains Wolfchild. "I wanted to try to grow as organically as possible to grow healthier foods for him."
After her first harvest, Wolfchild was hooked on gardening. She began to wonder what other food security initiatives might be possible to integrate into her land.

Beekeeping on the Blood Tribe

Before Wolfchild had always been a bit afraid of bees and bugs, but after years of working in her garden, and observing their behaviours of feeding and pollinating, she was intrigued to learn more. In 2019, she signed up to participate in an introductory beekeeping course hosted by the Tsuut'ina Nation.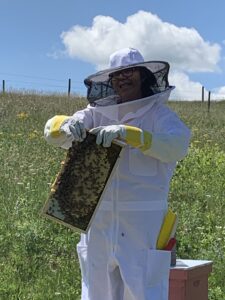 "It was a really, really good course," says Wolfchild. "They included pretty much everything including estimated costs of getting started." Although she didn't plan on beekeeping immediately, she won a "bee smoker" in a door prize. (A bee smoker is a tool used to puff smoke into a beehive to calm the bees, making it easier to work without getting stung).

"I talked with my husband and he's always been so supportive of any crazy idea that I have," she laughs. Together, they purchased the materials for their first hives and ordered a couple of bee packages to start.
Despite her initial fear, Wolfchild donned the beekeeping suit that first season and embraced the challenge. "I remember being so terrified watching them flying around me," she admits. "Every time I'd go in I'd have to hype myself. I'd tell myself, 'Okay, you got yourself into this. Think of the honey that you're going to harvest at the end.'"
Over time, Wolfchild lost her fear of the bees. She's learned to appreciate their resilience for harsh weather, enduring crazy storms, high winds, and adapting to conditions in southern Alberta.
"I love it now," she says. "I go out when it's calm and stand in the middle and watch them in flight — it's amazing. Or, during spring, when there's no activity, I'll go up and put my ear to the hives and listen to them. I'm constantly learning from the bees."
The honey Wolfchild produces provides her family with a healthier alternative to sugar. She points out that honey contains antioxidants and healing properties, and how the bees are beneficial for pollinating the vegetables in her garden, along with neighbouring farmland.
She's eager to use other byproducts of the bees, including beeswax. "I'm always learning more, like, what can I do with my beeswax? I've developed a craft business, as well, and I'm hopeful to add beeswax candles to my products," explains Wolfchild.

Integrating Small Livestock: Chickens and Milk Goats
After establishing her apiary, Wolfchild began to research other opportunities to increase her family's access to organic food, including integrating small livestock onto their land. With the help of her husband, they built a small chicken coop and began to raise laying hens for organic egg production. "It was a really good starting point," says Wolfchild.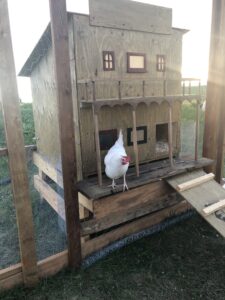 From raising laying hens, she's recently branched out into raising Nigerian dwarf milk goats, a breed known for producing high protein milk. "My husband is lactose intolerant, so we were never really purchasing cow's milk before. I mostly bought almond milk," explains Wolfchild. In the future the goats will provide her husband and family with a source of healthy, organic, easier to digest milk.
"The cost of food is going up and I know that having organic food helps with my husband's diabetes — it's just healthier," says Wolfchild.
It's a family affair taking care of the garden, bees, chickens, and goats on the land. Wolfchild's husband took a beekeeping course in order to help with the honeybees, while children (2 sons and 1 daughter) pitch in to help feed the chickens and collect their eggs, and care for the goats.
"I'm trying to teach my kids to try new things," explains Wolfchild. "If you don't like it, then it's not for you. But I don't want them to ever be afraid to try something new."

Taking Care of the Land and Community Health
Every year, Wolfchild is learning something new from her garden, the bees, and the animals she raises. She points out how every season there are unique challenges to face, including extreme weather — high heat, drought, heavy rainfall, or high winds — and coexisting with wildlife, including deer.
"I still have so much to learn," says Wolfchild. "We're doing our best to take care of the land and become more knowledgeable about how not to have such a negative impact on the environment."
Wolfchild hopes to share what she's learned with others about the value of growing food, beekeeping, and raising small livestock, in the Blood Tribe community. "I was recently talking to someone from Community Health, and maybe this year we'll try to encourage more community members to start their own garden projects," she says. "It would be something positive we could contribute back to our community."
She points out how the cost of food has risen considerably since the onset of the COVID-19 pandemic. Small-scale food security efforts, like the ones she's been implementing over the past six years, can help to alleviate household costs and provide access to organic, healthy foods.
"Being on the land is good for the body and getting exercise," Wolfchild says. "It also helps you relieve stress. Gardening is good for the mind, too."
—