Restoring wetlands, practicing agroforestry, and planting cover crops for improved pollination
By Trina Moyles
"I never thought I was going to be a farmer. It was never on the radar," muses Brenda Bohmer, who, over the past twenty-three years, has been the farmer behind Brenlea Farm, growing wheat, barley, and canola, thirty kilometres east of Camrose. On the verge of retirement, Bohmer reflects on the story of how she came back to the family farm, and how, today, she's reimagining new ways to more holistically manage her four quarter-sections of land situated in the Aspen Parkland biome.
Bohmer grew up on the same land she farms today, a mixed farm operation with cows, pigs, chickens, grain, vegetables and "the whole nine yards". She fondly recalls her parents' "love for trees", and the variety of tree stands that scattered the farm property, serving as wild habitat and shelterbelts. After graduating from high school, Bohmer left the farm to study at university and pursue a career working in municipal government, but she never stopped coming back to the farm to help her family during the harvest months.
For Bohmer, her family's farm was the "sacred spot" she always circled back to. In the 1990s, when her parents were considering selling the farm, she protested to her mother, "You can't sell the farm!" to which her mother responded, "Why not?" It made Bohmer stop and reflect on her life.
In 1997, she quit her off-farm job, came back to the farm to learn the ropes of grain farming from her parents and began working full-time as a grain farmer. Although she says it was a "risky move", and found it challenging to suddenly become a farmer, do the work, take on the decision-making and paying the bills, the risk of coming back to her roots eventually paid off. Bohmer excelled at grain farming – and moreover, she loved it.
"I have to credit my father," she says. "The main thing I learned was to stay out of massive debt. With grain farming, it's easy to get caught up in the latest and greatest equipment. It's particularly hard for small farms. There's a lot of pressure to get bigger – and as a result, take on more debt."
Taking on more debt requires a farmer to cultivate more acres and produce larger yields. Bohmer describes this as something of a "treadmill" cycle in grain farming that's difficult to avoid.
For years, she avoided large debt by investing in good used equipment at auction sales, and like other conventional grain farmers, tried to maximize her yields and profits by cultivating right up to the edges of creeks, and draining natural sloughs in the fields. "There are very tight margins in the grain business," explains Bohmer. "I was so focused on how to get more acres, more yield. I was so wound up in the details. I was stuck on the treadmill."
Shifting towards a holistic management approach
In 2017, as Bohmer began to consider her future retirement, and the possibility of selling the farm, she encountered something of a change of heart in the way she wanted to work with the land at Brenlea Farm.
"I thought, if I sell this farm, someone is going to drive out here with a bull dozer and take down all these trees," says Bohmer. "It made me realize: I wasn't going to let that happen. I love living here. I want to protect this place – it's paradise."
Stepping off the grain production treadmill, Bohmer realized, "this way of farming may not really be sustainable" and began to look at her land with new eyes. How might she work differently with the farm that sustained her family for decades? How might she give back to the land and nature?
"Instead of just focusing on how much grain yield I can get, my focus has shifted towards, what's my purpose here?" asks Bohmer. "What's possible? And what does the land need?"
Twenty years after coming back to the farm, in 2017, Bohmer dove into researching alternative ways of more holistically managing her land. She attended conferences, began networking with like-minded farmers and young agrarians, and reached out to regenerative farmers in central Alberta, including Don Ruzicka of Sunrise Farm, along Takota Coen of Coen Farm, for advice on how she might do things "a little bit differently". Through their mentorship, she began to learn more about the tenets of holistic management and permaculture principles.
Restoring a broken water cycle through riparian management
After changing focus from crop profit to holistic management, Bohmer faced an important realization. "When designing your property, the first thing you have to look after is your water. And I had to admit that, after years of grain farming, my water cycle seemed disrupted."
Bohmer realized she'd been draining sloughs for years in an attempt to farm more acres. She would seed around duck nests, but in order to deal with weeds, she'd farm right up to the edges of the wetland. "It's a mindset you get locked into," she admits. "But now I can see, it's something of a catastrophic event to drain a slough." Each wetland has its own ecosystem.
Initially, she chose one of her favourite wetlands, one that she previously had grown crops on during dry seasons and began to divert spring run-off into the slough. Bohmer's goal? Create a year-round wetland and invite nature to help rehabilitate the natural wetland ecosystem and water cycle.
"The goal is to keep water on the land," explains Bohmer. "Slow it down. Spread it out. And restore more natural wetlands."
Bohmer was able to partner with Cows and Fish – Alberta Riparian Habitat Management Society. Cows and Fish staff came out to her property to conduct a wetland health assessment and native plant species inventory. This will act as a benchmark so that over time progress can be monitored.
Within a year, nature took over the wetland and Bohmer was amazed to see the transformation of the riparian habitat. Native plants formed a natural buffer around the wetland.
"I can still grow crops between the wetlands," explains Bohmer. "But now I have a buffer which provides a separation between farming operations and the natural habitat.
Bohmer points out that 80 percent of all types of wildlife in Alberta spend all, or part of their lives in a riparian area. "We can co-exist," she says. "I like to think of this as farming as though the earth really matters."
Planting trees and rewilding the landscape through agroforestry
More recently, Bohmer has shifted her attention to the practice of agroforestry. In 2018, she identified several different areas on the farm where she could plant trees and took 20 acres out of crop production. A perennial ground cover of clover and fescue was planted around the perimeter of one of her fields to provide access for tree planting and maintenance.
Partnering with the Agroforestry and Woodlot Extension Society of Alberta (AWES), Bohmer planted more than 5200 trees – half in riparian areas, and the other half as shelter belts and boundary plantings. She received funding support from the Canadian Agriculture Partnership to cover 70 percent of the costs of planting in the riparian areas, and 50 percent in the shelter belts.
AWES brought in tree planters to plant the trees, although Bohmer was responsible for preparing the sites in advance and laying down the mulch. Together, they planted 18 different native species. As part of the program agreement, Bohmer is also responsible for caring for the tree seedlings which generally includes weeding and watering. She admits that it's hard work providing TLC for the seedlings.
"It's a big job – but it's rewarding," she says.
And the benefits, according to Bohmer, are many: the trees around the riparian areas will hold snow and break the wind. As a result, there will be less evaporation and more water from snow melt.
"This is what nature wants," explains Bohmer. "We're in the Aspen Parkland Biome and its natural state includes wetlands and clumps of trees and bush with open areas in between."
Small changes can make a big impact in farming communities
Over the past several years, Bohmer has been quietly integrating changes at Brenlea Farm. When she participated in Operation Pollinator, a biodiversity program designed to enhance the number of bees and pollinating insects on her farm, she planted a 2-acre patch of pollinator friendly plants where she normally grew grain crops.
"My neighbours wondered, 'what's going on there?'" Bohmer laughs. "I don't know how to explain it, but there's a lot of fear when you start to make these types of changes [on your farm]. Thankfully, I am beyond that fear stage now."
In 2019, the Western Producer published an article about Brenlea Farm and Bohmer's efforts to restore riparian areas on her land. Bohmer said she received a lot of enthusiastic feedback and as she proceeds, she's open to sharing her experiences with more people as it may influence others to say, "Hey, this is something I can try as well."
Bohmer is motivated by the concept of the "shifting base-line syndrome", an idea that each generation accepts their version of the natural world as "normal" without perceiving the changes, or depletions that are taking place. She points out how there used to be sharp-tail grouse in central Alberta, but the conversion of prairie land into farmland decimated their populations.
"When I was a kid, there were lots of Ruffed Grouse," explains Bohmer. "Every spring, I remember listening to their drumming. Today, there's less and less drumming. If we keep up with this rate of taking down trees and draining sloughs, we're losing our connection with nature."
This motivates her to work in harmony with nature at Brenlea Farm. And change is possible. She's seen it for herself from her efforts to restoring wetlands and planting trees.
She spends a lot of time taking photographs, observing and documenting the subtle changes in her riparian and forested areas, noticing new plants and critters. She's even named one wetland after a new inhabitant – Muskrat Marsh.
"It's pretty cool," she laughs, then adds: "I'm really hoping a beaver will come through here. I'd love to get them in my wetlands and see what they can do."
Although there are no beavers yet, Bohmer fondly calls one of her wetlands, Beaver Lake.
"When these young trees come up, the beavers will have food and shelter – so I've got hope," she says. "It's a dream of mine."
—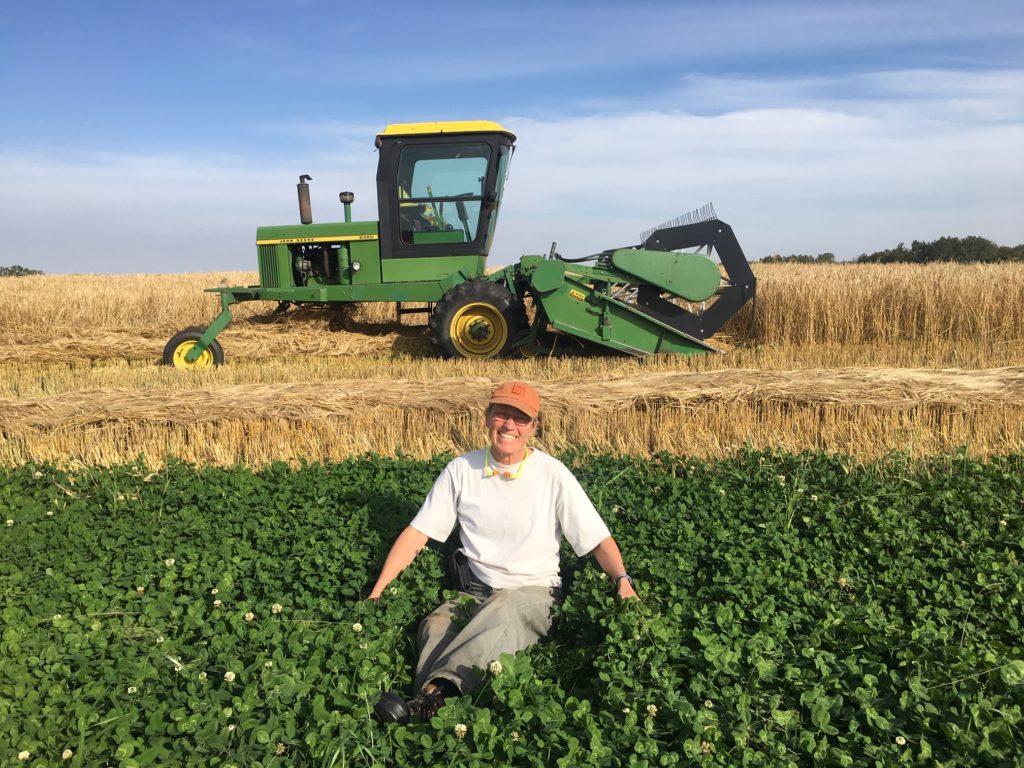 Brenda Bohmer grows wheat, barley, and canola in central Alberta. She grew up on the same land she manages today. After pursuing a career in municipal government, Bohmer moved back to the farm in 1997 to take over operations. Recently, Bohmer shifted towards a more holistic management approach, focusing on wetland restoration, agroforestry, and planting cover crops for improved pollination.