Rotational grazing, protecting wetlands, ecological weed control, and calving in tune with nature at Valley View Ranch & Flying Heart Meats — Strathmore, Alberta
By Trina Moyles
Sustainability is a shared family value at Valley View Ranch and Flying Heart Meats, a fifth generation family ranch located east of the town of Strathmore, a short drive from Calgary, Alberta.
Rod and Beth Vergouwen's agricultural roots in Strathmore stem back to the early 1900s when Beth's great-grandfather emigrated from Illinois with the vision to farm and ranch in southern Alberta. In 1909, he named the land "Valley View Ranch" — a name that Rod and Beth, along with their children, who represent the next generation of farmers on the family ranch, have preserved and continued to date. "We have a long, deep rooted connection with agriculture on both sides of the family farm," explains Rod, whose own grandfather emigrated to southern Alberta from Holland in the 1920s.
Soil health, environmental sustainability, and knowledge sharing have all been critical to ensuring the farm's evolution and success. Today, Rod and family raise Angus cattle and a flock of Katahdin sheep on open native and annual forage pastures. They've adapted an integrated approach to land management, practicing rotational grazing to improve the quality and biodiversity of the soil, which in turn has provided fertilized soils for growing grain and forage crops. They plant cover crops for reduced erosion, rest the grass, graze in tune with nature, and protect essential riparian areas. 
Graydon Garner, Rod's son-in-law, is new to the ranch, but equally as committed to the tenets of soil health and environmental conservation, while introducing new strategies on the land, including using their sheep as an ecological management tool for weed control. 
In April 2021, Rod, Graydon, and family, received the J. Laslo Legacy Award from Wheatland County for their exemplary leadership in integrating environmental farm and ranch practices at Valley View Ranch.
"It's truly a family business," says Graydon. "Rod and Beth, along with their own parents, have been fantastic at including the next generation in the farming operation."
Cattle + Crops for Soil Health & Protecting Vital Watersheds 
One of the strategies implemented at Valley View Ranch is integrating livestock management with crop management, says Rod. They have started trying a "cocktail crop system" of pulses and legumes — sometimes including peas and alfalfa — to increase nitrogen base in the soil, and in turn, reduce their reliance on synthetic inputs. "Our goal is to keep a living root in the soil," explains Rod. "This increases the soil health and biodiversity and reduces erosion."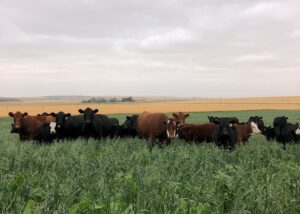 Rotational grazing also has many environmental and economic benefits, he says. Grazing the cows on the cropland extends the grazing season and reduces the feeding required through the winter months. "When we can introduce cattle to that grain land, it really makes a big improvement," explains Rod. "It increases nutrient transference and cuts back on our synthetic inputs."
Another important focus at Valley View Ranch is sustainable and ecological water management, achieved in part, through partnership with a number of different organizations, including Ducks Unlimited Canada, Cows and Fish, ALUS, and the local county. 
Through these partnerships, Rod and family have been able to access education, ideas, and funding opportunities to manage vital watersheds. In recent years, they've implemented a number of different off-site watering systems and fencing materials to keep their cattle out of dugouts and sloughs. This allows them to manage the cows in different areas of the ranch, in turn, allowing for regrowth and grass management.
It's also win-win for the health and efficiency of the cows, says Rod. "The water of those offsite watering systems is a cleaner source of water," he explains.
Two decades ago, he participated in a study with the local county to examine the benefits of off-site watering systems compared to irrigating cattle on dugouts. The study revealed that cattle gain weight at a higher rate and use less water when the water is cleaner.
"So rather than stomping around a dirty old dugout, our cattle are drinking nice, clean water so they use it more efficiently," says Rod.
Experimenting with Katahdin Sheep for Ecological Weed Control
Over the past six years, Graydon and his wife have been keeping a small flock of Katahdin sheep on the family farm. Several years ago, they began to wonder about the idea of using the sheep as a solution to persistent issues of perennial sow thistle and Canada thistle in their pastures.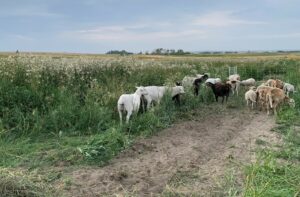 "It's become a really good management system to help control and put pressure on these weed species without the use of synthetics," says Graydon. 
They use portable electric fencing systems to move the flock every four days, or so. For irrigation, they use a small farm wagon with a water tote on it. The key, he says, is to keep the flock mobile on the landscape — and to keep them away from the cattle. 
"We can't mix the sheep and the cattle because some of the minerals that are essential for good cattle growth can also be toxic and fatal to sheep," Graydon explains. As a result, they manage them mostly in separate pastures and they rarely overlap.
For Graydon, it's about coming "full circle" on the land and in their management approach. 
"We're using the sheep to manage weed species, and in turn, creating a natural product that we can put right back into our local community through our farm gate meat business," he says.
Adapting Practices is Key to Sustainability and Succession
Another important aspect to the family's approach at Valley View Ranch is being involved in various agricultural organizations in the wider community. "We take a lot of pride in being involved in different forums, associations, and events to access the knowledge and expertise that's out there," says Rod. 
For years, he's made an effort to attend meetings, educational events and workshops organized by agricultural extension programs and expose himself to new information. "It's about being willing to access new information and not get stuck in the same old rut of thinking of 'just because we've done this for the last 30 years means we'll do it for the next 40 years'," says Rod. "As a result, we've changed a lot of practices on the farm."
One of the notable changes they've made on the ranch, over the years, is the timing of calving season. Rod's father always calved in March, when the cattle were in the corrals, a system that Rod says worked well for him for many years. But when Rod and Beth took over the ranch management in the late 1990s, they decided to match their production cycle with Nature's cycle, opting to calve in April when the cows are out on pasture.
"Instead of being out when it's cold, checking on the cows every two nights and dealing with cold calves, we shifted to a later calving in May when it's warmer and the cows can calve with very little human intervention," explains Rod. "It's just made life so much easier." They have since shifted the livestock portion of the farm business to backgrounding grass-fed cattle that fit into certain niche markets. "It's a system that we feel currently fits our family's lifestyle and also meets the business and management goals," says Rod. "Spring was getting too busy with seeding and calving in the same month, so we decided to get rid of the mother cows and stick to backgrounders that don't need as much attention at that time of year." 
The willingness to share ideas and knowledge is, in part, what has made Valley View Ranch sustainable over the years, points out Graydon. "It's really about bridging the generational gap that can often occur between different generations of farmers and ways of managing the land. I think it's one of the keys to family farm succession," says Graydon. 
"Smaller operations like ourselves are going to move into the future by listening to each other and moving forward together. We're constantly evolving as a ranch and a family business."
—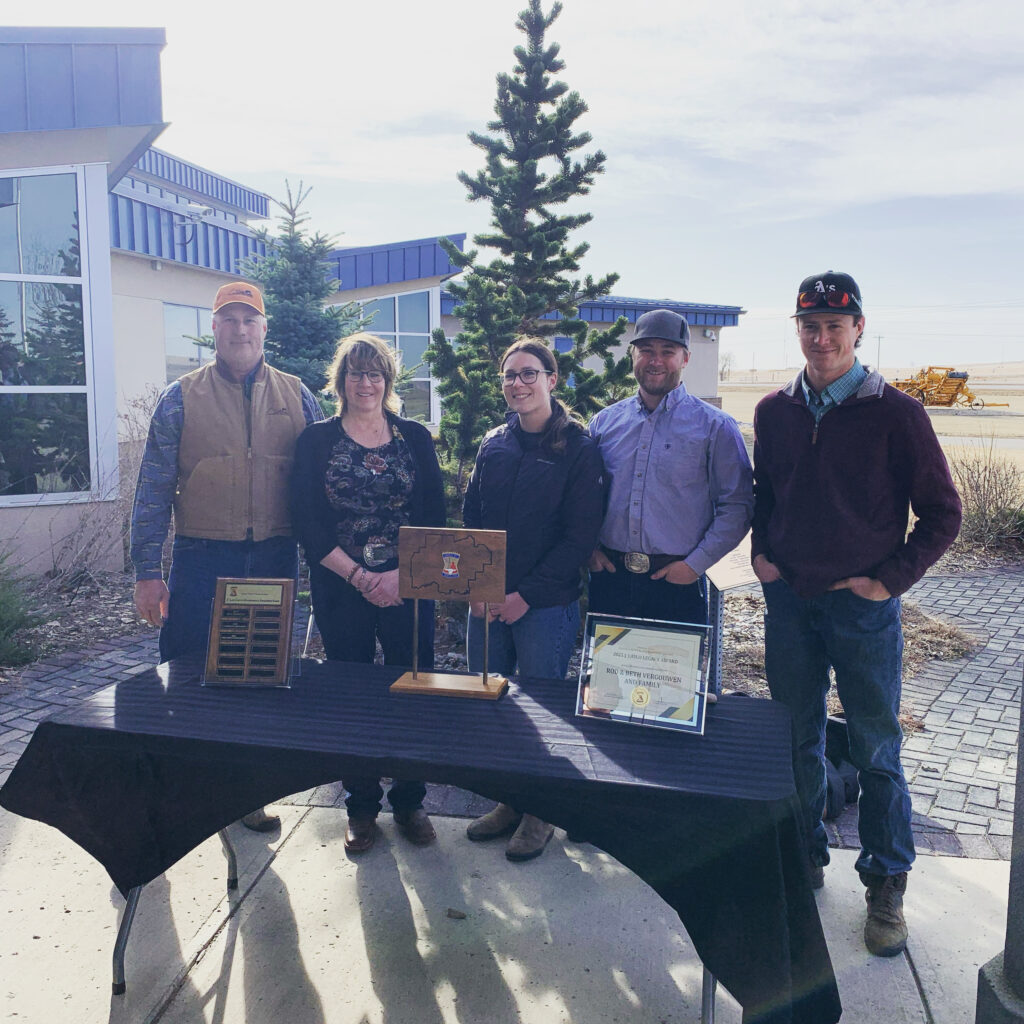 Valley View Ranch & Flying Heart Meats, Strathmore, Alberta
Valley View Ranch is located a short drive from Calgary, near Strathmore. Operating since the 1900s Beth and Rod Vergouwen are fifth generation farmers on the family ranch. Their herd of Angus cattle and flock of Katahdin sheep are raised on open native and annual forage pastures, producing delicious, grass finished beef and lamb Understanding that their land is the future, they are continually working to improve the health of their soil and plant diversity. In 2021, they were awarded the J. Laslo Legacy award from Wheatland County for showing exemplary leadership in implementing beneficial management farm and ranch practices.
Learn more about Valley View Ranch and Flying Heart Meats –
www.flyingheartmeats.com