From a former wasteland to a regenerative ecosystem, the Schambers are growing and promoting "tongue to tail" food, planting trees, protecting riparian zones, and educating the next generation of land stewards
By Trina Moyles
"It wasn't the land of our dreams," admits Alana Schamber, farmer and former early childhood educator. Over ten years ago, she and her husband, Justin, purchased Tin Forest Farm, 142 acres of land in the County of Wetaskiwin. The beauty of the land, says Alana, was in its potential. Half of the property was covered in wetlands (and remains wetlands today), while a quarter of the parcel was a "dilapidated junkyard" with old tractors, scrap metal, discarded kitchen renovations, carpets and mattresses. The remaining quarter of land – degraded from years of tillage and erosion – is where the Schambers built a home and put down roots as first-generation farmers.
In those early days, as Alana looked out the window at the junkyard and "wide open, dead land", she drew inspiration from a children's book, The Tin Forest, by Helen Ward and Wayne Anderson, which tells the story of an old man who lives on a forsaken wasteland. After two birds drop seeds on the land, they take root and grow. The old man helps to steward the land into a vibrant forest ecosystem.
"It wasn't the land of his dreams," says Alana, "But he still worked with it."
In their first year on the land, the Schambers planted 500 trees. The following year, they planted 3000. Today, they have over 8000 trees on their property.
"The land was what fit our budget – it wasn't the land of our dreams," reiterates Alana. "But we've been working with the land to clean up the junk, reorganize, plant trees, encourage plant growth and make it the farm of our dreams."
Over the past decade, the Schambers have helped to restore and rehabilitate Tin Forest Farm through regenerative farming practices, including rotational grazing, agroforestry, and fencing off sensitive riparian areas. The family raise grass-finished heritage beef and lamb, heritage chickens, honey bees, and sell hand-spun wool. In previous years, Alana organized an annual summer Kid's Nature Camp and a Farm to Table community dinner at the farm.
"Our goal is to get local food on the tables of local families," says Alana.
From early childhood education to first-generation farming
 Both Alana and Justin were raised in the Wetaskiwin area. While, Justin lived on a hobby farm, Alana grew up on three acres of land that bordered a hay field, and beyond that, a quarter section that was owned by the county, and covered with forest. She and her friends and siblings spent hours in the forest, watching for birds and deer, and building forts. When Alana was in junior high, the county cleared the trees to make way for seismic drilling.
"It had a profound effect on me going into my adult years," reflects Alana. "It made me start to question: what kind of footprint do we want to leave behind?'"
These early experiences in nature followed Alana into adulthood, as she pursued a career in early childhood education in Edmonton, and then transitioned into becoming a first-generation farmer at Tin Forest Farm. But even though her neighbour's point out that she's now a full-fledged "farmer", Alana prefers to call herself a steward, or "caretaker of the land."
"I see our land and livestock as extensions of us," she explains. "Through rotational grazing, we've been able to raise beautiful beef and lamb – and also see the benefit to our land. We've seen the changes year by year; it's a slow progression. Caretaking is about working with the land or adding value back into it – as opposed to taking from it."
Regenerative approach to building healthier ecosystems: water, trees, and biodiversity
It's been a steep learning curve for the Schambers, but they've been putting in the work necessary to help rehabilitate the badly eroded soils caused from years of tillage of conventional agriculture.
They planted trees along the edges of their pastures as shelterbelts and eco-buffers and began to rotate their livestock from pasture to pasture. As a result, they've seen a diversity of crops and native plants coming up in the fields. "It's definitely much greener," says Alana. During the winter months, they put hay bales out in the fields for the sheep, to keep them out walking and grazing on the land, continuing to recycle nutrients back into the soil.
The Schambers partnered with ALUS to access financing for building fences to keep livestock out of 40 acres of sensitive wetlands. Through ALUS, they receive a small compensation for helping to protect these wetlands and restore natural biodiversity. Alana points out how sewage and agricultural run-off can seep into groundwater.
"Wetlands are a filtration system for the groundwater, which our family and our community depends on, so that's why we see it as really important to steward."
Their hard work is starting to transform Tin Forest Farm. From dirt field and the odd lone raven, the former wasteland is now becoming an abundant ecosystem.
"Today we see grasses, trees, different forages, and many different species coming to call our land home. To me, that warms my heart. It's a definition of success; it makes me feel like we're doing a decent job," says Alana.
Raising heritage breeds and promoting a concept of "tail to tongue"
The Schambers have experimented with raising heritage breeds known for their improved foraging and mothering traits, including the Scottish Highland cows, a Highland Angus cross, and Jersey cows for milking. Recently, they connected with a Swiss couple who raises Braunvieh (German for "brown cattle"), a triple-purpose cow originally bred for milk, meat and draught work, that is commonly found in the Swiss Alps. The Swiss couple has been breeding their herd primarily for meat, but Alana says their milk is also excellent for family consumption.
"The Braunvieh's personalities are so sweet," says Alana. "They're very social creatures."
As for sheep, they've come to prefer raising Tunis sheep, a breed that's originally from Africa. While it may seem strange raising a desert-originating breed in Alberta, where winter temperatures dip to 40 below Celsius, the Schambers believe they're ideal for the extreme conditions.
"They're kind of like a camel," explains Alana. "Their tails are thicker at the top for storing water and nutrients. The Tunis sheep do really well in the extreme temperatures of our climate."
The Tunis are excellent foragers and independent mothers. They typically only have 1 to 2 lambs, as opposed to many, so they require less human management. The Tunis produce a beautiful downy wool that's creamy in colour. "It's perfectly designed for our climate because it's more of what they call a downy fleece, which is really fluffy."
Much of the wool is taken down to Custom Woolen Mills in Carstairs, Alberta, where it's processed on historic equipment from the 1900s. Recently, Alana set up a small farm store to sell the yarn and fleece and custom-wares. She points out that the majority of Canadian wool is sold and shipped to China where it's processed. The Schambers want to keep their products as local as possible. Selling the wool is also another small way to add value on the farm.
"We're trying to use the whole animal," Alana explains. "When we butcher, we make sure to get back the bones and organs. We've learned how to eat kind of 'tongue to tail', which was definitely a giant learning curve."
Weathering extreme weather on the farm
Managing the trees and livestock on Tin Forest Farm hasn't been easy in the face of erratic temperature swings. It's been particularly challenging overwintering the tree seedlings they've planted as shelterbelts and eco-buffers. Alana points out that over this past winter they've received hardly any snow cover, not enough to cover and protect the seedlings from the extreme cold.
"When it used to be winter, it was winter," says Alana. "But now we get these erratic temperature shifts of sudden warming and cooling. It's hard on the young trees we're trying to establish."
The extreme weather has also been difficult for local beekeepers, she says. "I haven't been able to successfully overwinter a hive for four years," admits Alana, explaining how the sudden warming events in winter cause for moisture levels to go up in the hives.
But as a small farm, the Schambers aren't faring the worst of the changing climate. Alana points out how it's much more difficult for large-scale conventional farmers, many who are operating from a place of financial stress, worrying about debt and making payments to keep farming.
She also recognizes that the way she's been farming – trying to establish young trees, for example – is often highly labor-intensive. Alana reflects on a book she read, Restoration Agriculture by Mark Shepard, and the belief that whatever you harvest from the land, should be returned, and that "nothing should leave your land for seven years."
"It was literally around the seven-year mark when the trees started to establish and take care of themselves and we saw different species coming back to the land," says Alana.
But the hard work and effort at Tin Forest Farm has been worth it.
"It's not about us," says Alana. "It's not about what we take from the land. It's about how we're leaving it for the next generation and seven more [generations] after that."
Educating the next generation & building community
What the Schambers love the most about Tin Forest Farm is inviting the community to share in their love for the land, livestock, and nature thriving around them. Before the COVID-19 pandemic hit, they were organizing an annual Kid's Nature Camp and a Farm to Table event, as ways to help educate both kids and adults alike on the importance of local farming and food. In 2019, they hosted the dinner in their barn, which attracted over 150 guests, included a menu of locally produced food, beer, and wine, and also helped to raise money for the children's summer camp.
"I truly believe that children are our most valuable resource," says Alana. "The more we can invest in kids and provide opportunity for them to be in nature and out on the land, the greater the connection and consciousness they'll have for our future generations."
—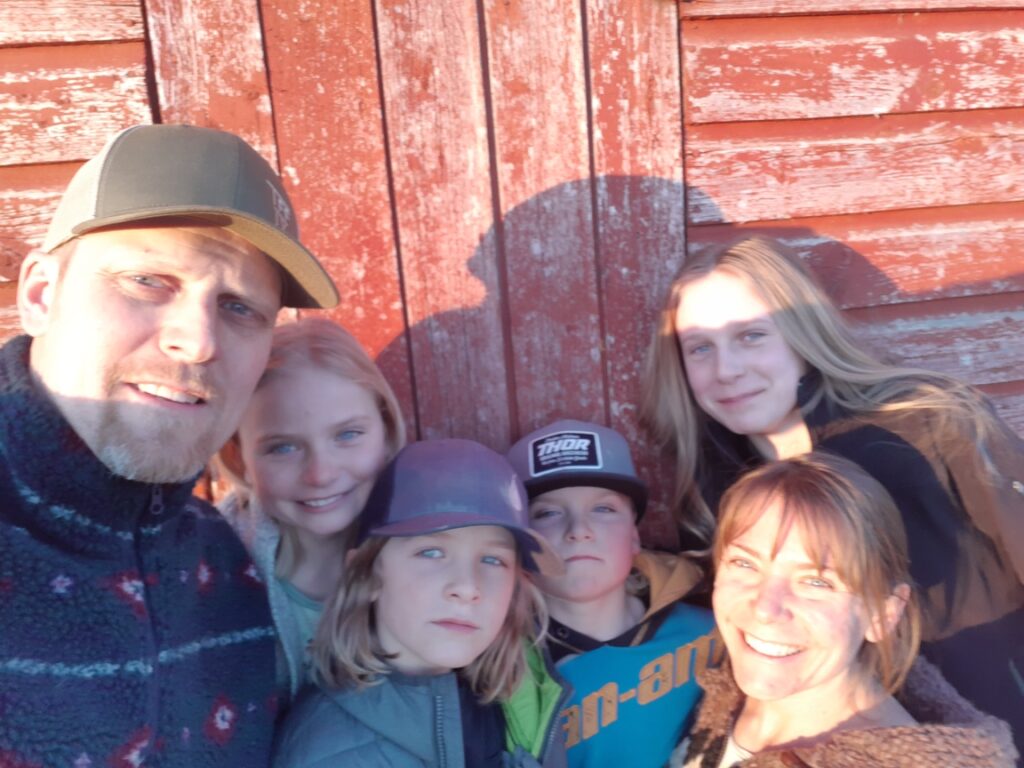 TIN FOREST FARM - WETASKIWIN, AB
Justin and Alana Schamber and their family manage Tin Forest Farm, 142-acres of forest, wetland, and pasture in the County of Wetaskiwin, AB, where they raise heritage cows, sheep, chickens, and honeybees. The Schambers practice regenerative agriculture, planting trees, protecting wetlands, and practicing rotational grazing. In previous years, they've organized a Kid's Nature Camp and a Farm to Table fundraising event with the goal to promote education and build community.
Learn more about Tin Forest Farm – http://www.tinforestfarm.com/